Features
A powerful, yet simple set of features included with your GlobalWorkshop account - tailor made to help your business.
Cross device support
Access from a browser on your desktop, laptop, tablet or phone.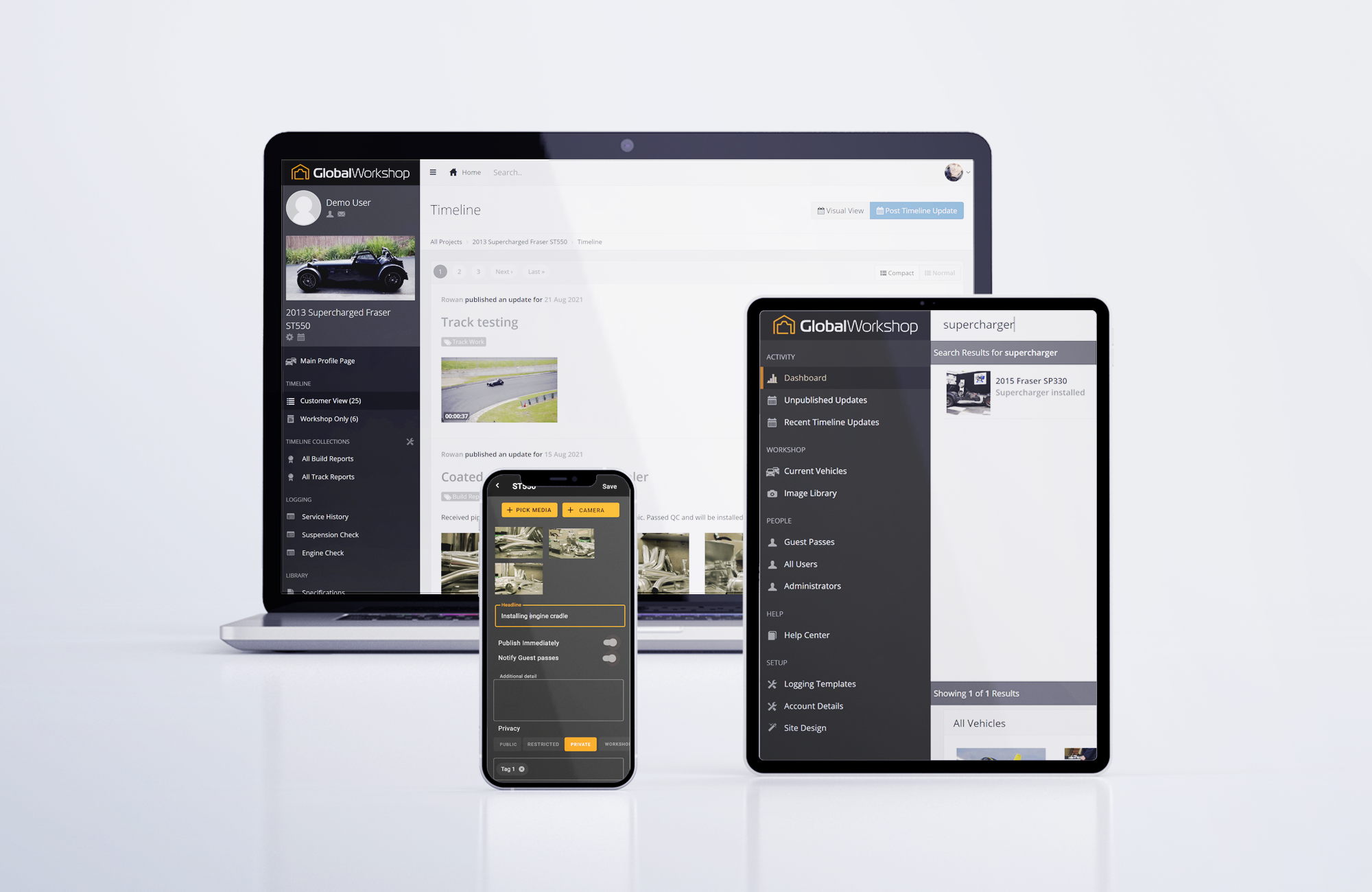 Hosted in the cloud
Nothing you need to install, just sign up for an account and you're up and running.
Capturing progress
At the core of GlobalWorkshop we make it fast and easy to capture visual progress of a project.
Project Timeline
As you upload reports, all of your vehicles details are automatically organised into a chronological timeline, enabling you to easily see the progression and history of a vehicle
Photo Storage
Store as many photos as you like (up to your account limit) for each of your projects, all neatly categorised within a timeline. We take care of the hard bits like resizing them.
Private Videos
Secure and safe storage for your videos enabling you to share privately with you and your customers. Perfect for that GoPro footage..
Privacy Controls
Every profile and timeline update has privacy settings - whether you want to show it off, or hide it from prying eyes, you're in control.
Secure Image Handling
Identifying information such as EXIF/GPS info is automatically stripped from images, enabling you to share with confidence.
File Upload
Each project also has an area to store miscellaneous files. Use this for design briefs, ECU maps etc
Accelerated Uploads
Faster video file uploads, making it quicker to get content to your customers
Dedicated Mobile Apps
Designed to make it easy to make progress reports in seconds from the factory floor
Learn More
Partner Projects
Nov '21 Share a project between multiple GlobalWorkshop accounts to allow multiple businesses to work on a single vehicle
View notifications
Mar '22 Receive notifications on your phone when your clients view project updates
Templates
Apr '22 Presaved text prompts, allowing you to have consistent formatting in update wording
Reminder email
Apr '22 Set a frequency of when you update a vehicle, and get reminded if you've missed an update in that schedule
Private Client Access
Allow your customers and stakeholders to see securely, privately, that progress you've made.
Secure Client Portal
Your clients can login and see their project(s) - all of the history and latest updates as they happen. When you make a an update they get automatically notified
View photos/videos
No need for your customer to download files. Photo viewer and secure video players directly in the portal
Commenting
On each update both you and your clients can comment, enabling you to get organised, direct feedback on stages of a build
Guest Passes
You or your customers can share vehicles with select friends, family and associates privately. Subscribing to updates people get notified as and when updates are made.
Customer Updates
Often these are passion projects and the customer wants to add their own history, particularly for restorations
Acknowledgement
The system automatically tracks when your clients have viewed the updates so you're confident they have seen them
Categorisation and searching
On large projects with 1000's to 10'000 images/video, and hundreds of updates, finding things quickly is important
Tagging
Associate updates with a configurable set of tags. Enabling you to quickly find everything related to an aspect of construction.
Search Engine
An inbuilt search system allows you to lookup any past updates across all your projects
Timeline Collections
Save a filter based on tags/privacy/date range, you can view these in your project or use them to generate reports from.
Reports
Generate printable reports at the touch of a button, from last weeks work to an entire vehicles history. All with no extra effort.
Image gallery
See a gallery of images across all of your projects, quickly filter down and find images based on project
Capture and use information across your team
Usually updating customers falls on one persons shoulders, not with GlobalWorkshop - features designed to both get updates from your team, and provide information across your team.
Multiple Administrators
Allow named members of your team access to your company account while allowing them to also post updates to client projects
Workshop Only Updates
Store updates accessible only to your business - reference photos of wiring, items on jobs you need to tidy up. All in one place without being shown to clients.
Synced across your team
All of your team can access each projects timeline on their desktop/mobile apps. Easily go back and reference photos/videos from days to months ago
Restrict team from publishing to clients
A permission system enables you to allow your team to capture progress reports, locked to a 'Workshop only' privacy setting, so clients don't see them. With our update editing features, you can move key photos/videos into client facing updates.
Additional Features
Included in our Pro and Enterprise account levels are additional features
Parts Inventory Basic
Keep track of parts on your vehicles, the serial numbers, purchase dates and purchase amounts.
Competition History
Current or historic. Record competition placings, best lap times and drivers. Keep a record of the valuable history for each vehicle.
Logging Templates
Collect abritrary data such as suspension settings, or engine log hours.
Training and support
Not everyone is tech savvy. We understand you're more at home behind a Snap-on tool than a keyboard. That's why we provide simple to follow videos to get you up and running in no time.
Public Web Presence
Want to make some or all of your vehicles log entries public? Doing so will give you an online presence that is updated as your vehicles are updated, no extra cost.
Audit Trail
Coming Soon Check who did what, when, on your account so you can be sure accuracy of information
Improve your customer experience today
Click the button on the right to sign up for a trial account and see how GlobalWorkshop can improve your business. If you want a personal tour just email us on
info@globalworkshop.com
Want something special?
We recognise our clients have bespoke projects, and as such may need bespoke features themselves. From API integrations, custom reports and more - we are experts in software development. Our White Glove Services are here to help
About Us
Purpose built for the needs of Automotive, Marine and Aviation industries. GlobalWorkshop is a service provided by Clever Robots Limited.