Features
A powerful, yet simple set of features included with your GlobalWorkshop account - tailor made to help your business.
Track everything about your vehicles
From 1000's of photos, to 1000's of hours.
Built for the industry
GlobalWorkshop is the only dedicated software system for the bespoke vehicle industry - we have clients across land, sea and air. From single staff to dozens, building and restoring the most unique machines on the planet.
Historic Car Restoration
Restomods
Racecar fabrication
Racecar preparation & running
Modern & Exotic Tuning services
Warbird Restoration
Hot Rods
Bespoke Launches
Bespoke Tenders
Kit cars
Modern software
As you expect software should be today, with continual development and updates to help improve your business.
Cross device support
Access from a browser on your desktop, laptop, tablet or phone.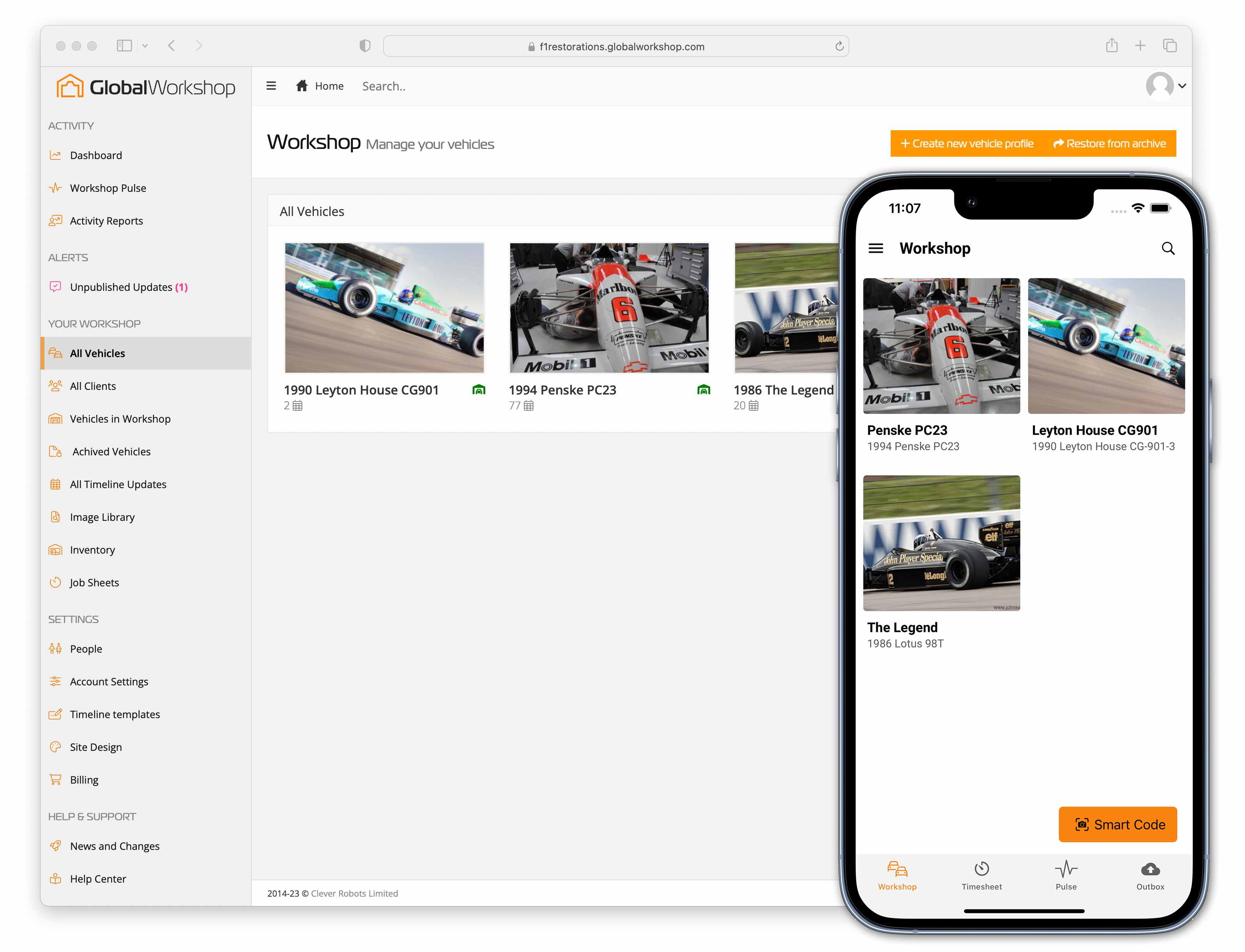 Hosted in the cloud
Nothing you need to install, just sign up for an account and you're up and running.
Unparalleld insight
Get real-time views into your workshop with dashboards and our Workshop Pulse feature.
What's happening at a glance
From images and videos being uploaded, customers viewing updates, even seeing guest activity. Your digital library is alive and we show you. With the Parts, and SmartCode modules see activity across your workshop.
On the go, or at the office
Workshop Pulse is available in both Desktop and Apps. So you can keep tabs on your workshop wherever you are.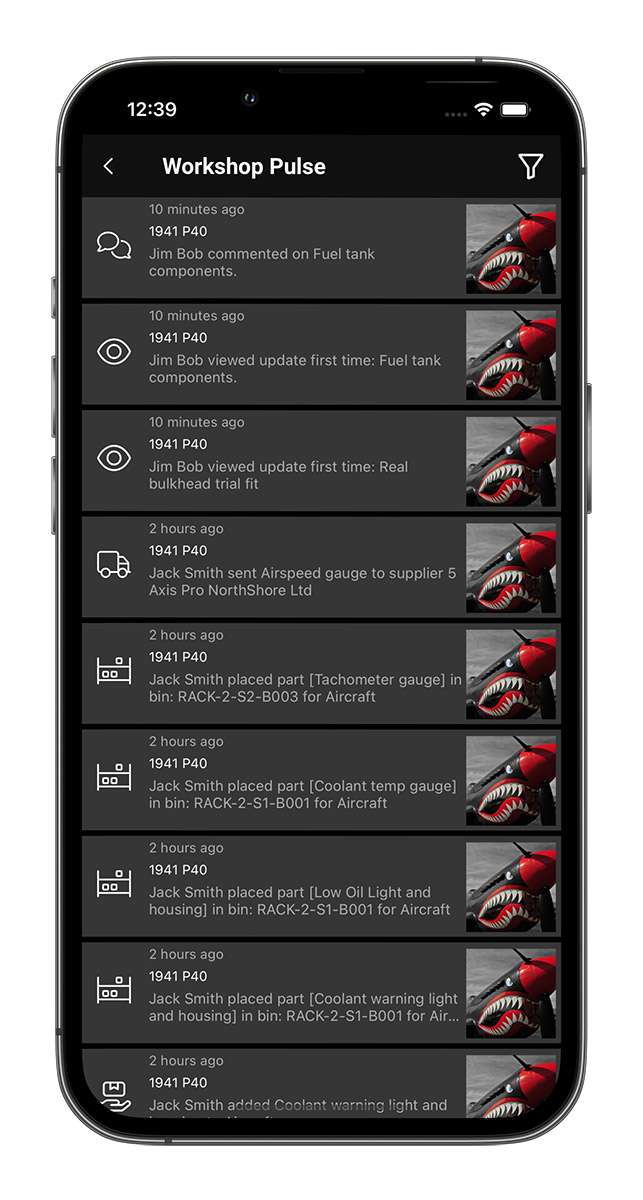 Get started fast
We want you using our software, as fast as possible with the least fuss.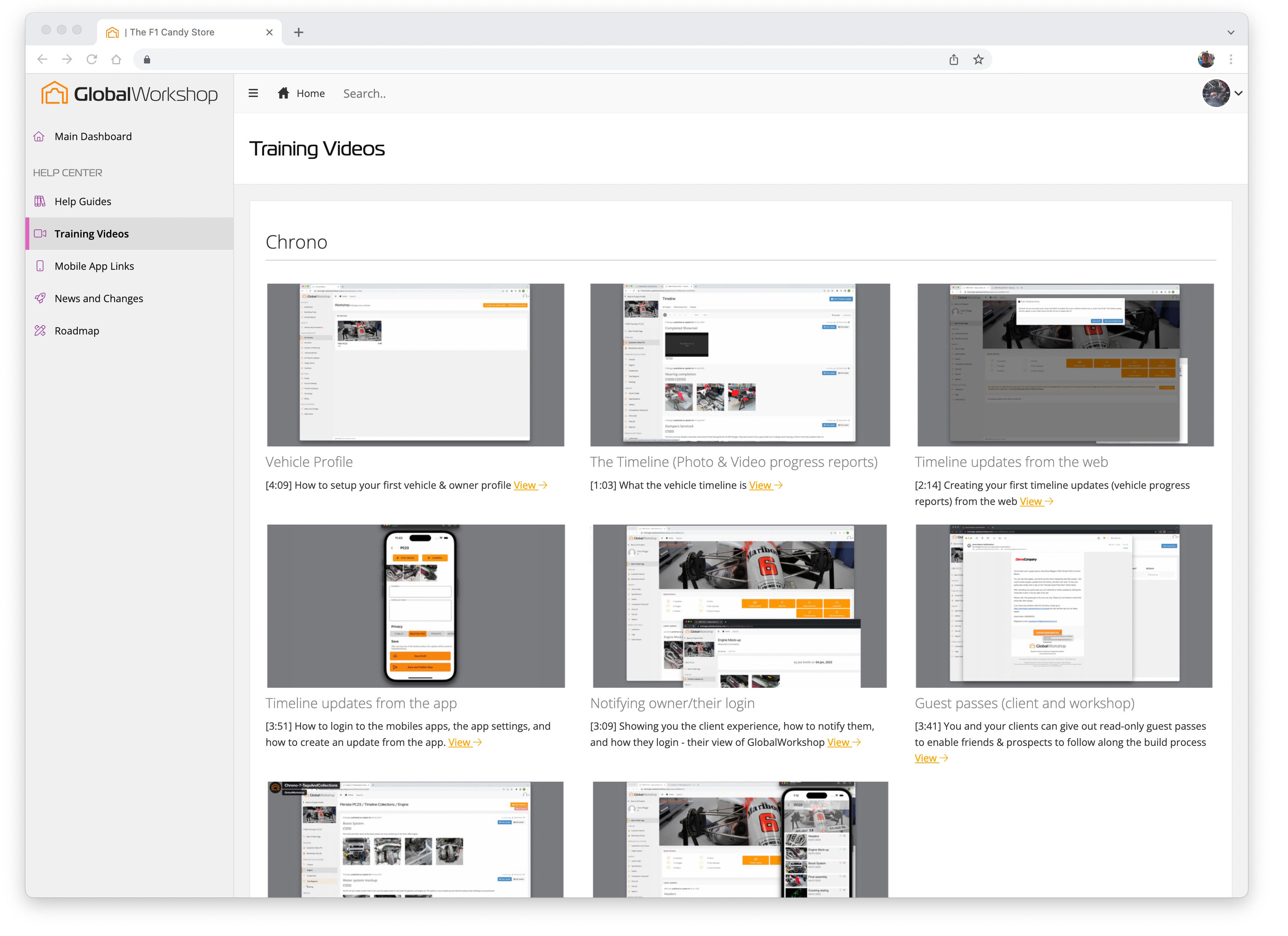 Video training library
GlobalWorkshop has a complete video training library to get you started quickly. No implementation fees or consulting services.
Support with real humans
Get stuck? Reach out to us on phone/email/chat and we'll help you out - we have coverage across many timezones.
No-obligation trial
We set you up with a 30day free trial, help if you need it, to try out the software - all without needing a credit card.
Built by people who love engineering
Use purpose built software for the needs of bespoke builders. We get your world and we build our software to suit you.
Easy to use.
From your master mechanic through to coachbuilder with a lifetime of experience, if you can pick up a phone navigate your favourite YouTube clips, you can use GlobalWorkshop.
Specific terminology
From race cars, superyachts, to precious historic warbirds and everything in between. Your GlobalWorkshop account is set with the terminology that suits what you work on.
Small to Large
Be it a 2 person, to 100 person shop, our system scales to your needs. Our (current) record is 700 photos uploaded in 1 day from 1 customer...
Private and secure
High networth individuals with expensive machines like to keep them private. We built GlobalWorkshop for this reason so you can be sure your data is safe. Multiple security controls, firewalls and strict access to data.
Multiple Languages
From race cars, superyachts, to precious historic warbirds and everything in between. Your GlobalWorkshop account is set with the terminology that suits what you work on.
Driven by customers
If we're in your town or city we'll make every effort to come visit you. We love seeing our software being used, hearing first hand feedback, and what would make GlobalWorkshop better for you
Improve your customer experience today
Click the button on the right to sign up for a trial account and see how GlobalWorkshop can improve your business. If you want a personal tour just email us on
info@globalworkshop.com
About Us
Purpose built for the needs of Automotive, Marine and Aviation industries. GlobalWorkshop is a service provided by Clever Robots Limited.
Our Contacts
Leicestershire, United Kingdom
Auckland, New Zealand
Nelson, New Zealand
Phone: +44 1908 736946 (UK)
Phone: +64 3 569 3019 ext 800 (NZ)