GlobalWorkshop
Chrono
Easily capture photos and videos across all your vehicles, present them in chronological timeline illustrating build progress to your clients in a dedicated client portal & app.
01.

Capture

Take photos, videos, and notes as you progress through each project. From either your phone in the workshop, in the field, or on your office PC.

02.

Inform

As updates get captured, your client gets automatically notified, along with any guests of their choosing, of the work in progress. Private video hosting and secure image handling is taken care of for you.

03.

Reference

At any point go back and refer to previous steps. Powerful search, tagging, and filtering tools make it easy to organise and find information from 100's to 10,000s of photos and videos.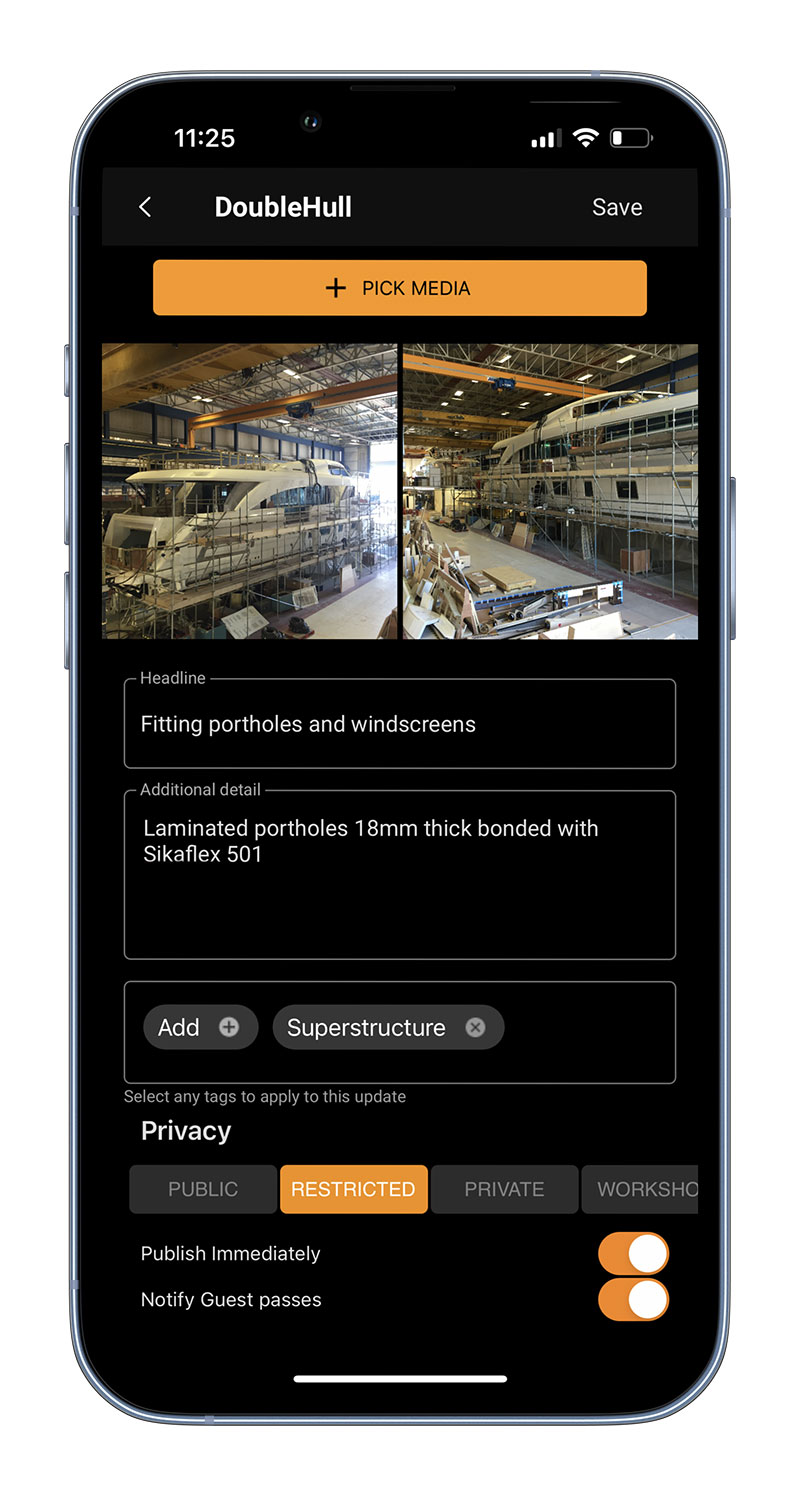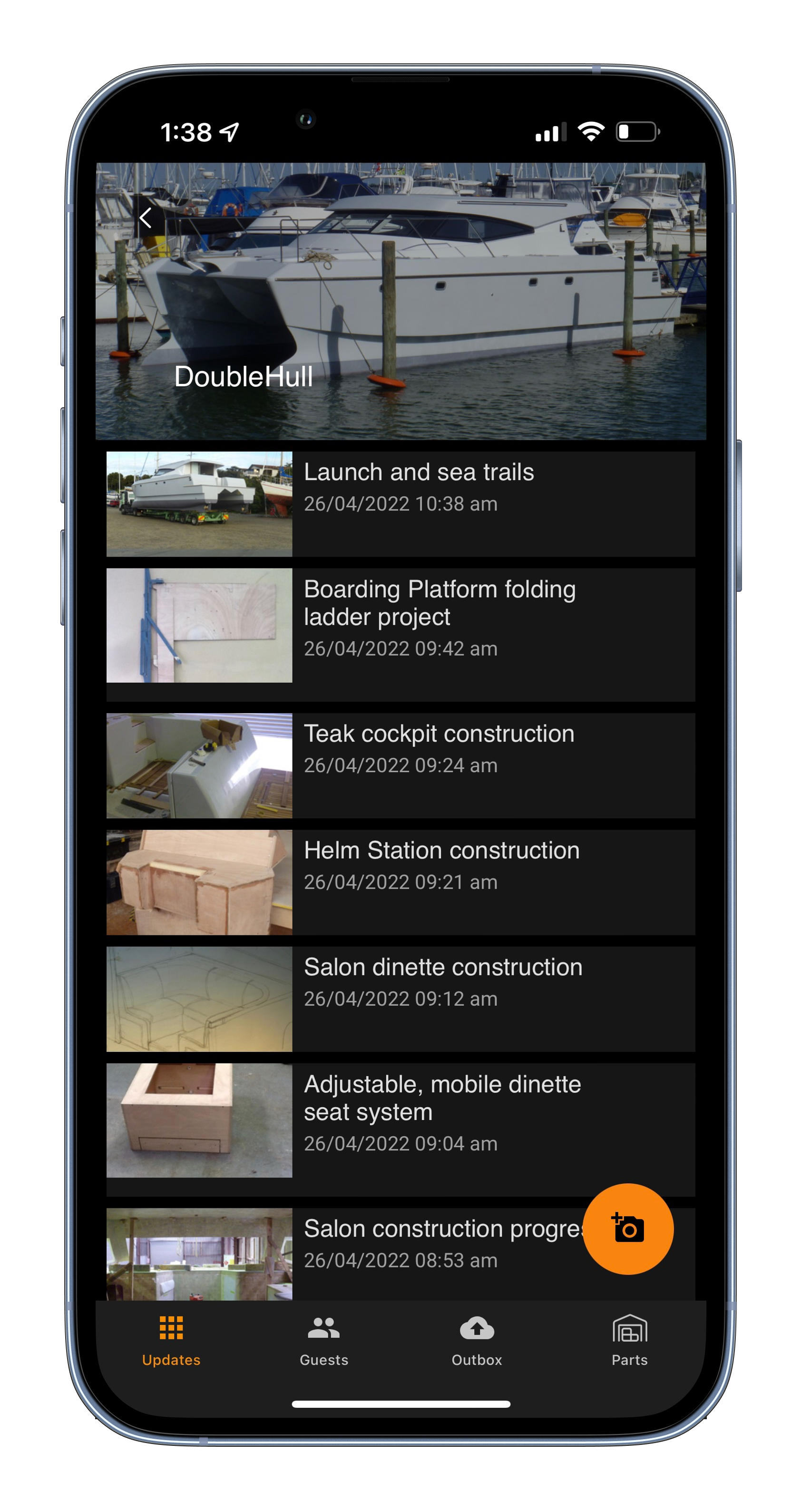 Simple and powerful mobile apps
Designed from the ground up for the sole purpose of taking visual progress reports & presenting a timeline of each of your previous builds.
Simply select photos, videos, tap in some notes and press upload - we take care of the rest
The Ultimate Build Diary & Client Portal
GlobalWorkshop does all the heavy lifting of turning those progress reports in to a beautiful timeline, chronicling the build journey for you and your clients.
Workshop only access you can limit some updates to only being visible to your workshop, for reference only pictures not suitable for clients
Guest access your clients can invite their friends and family to follow along, without sharing on social media.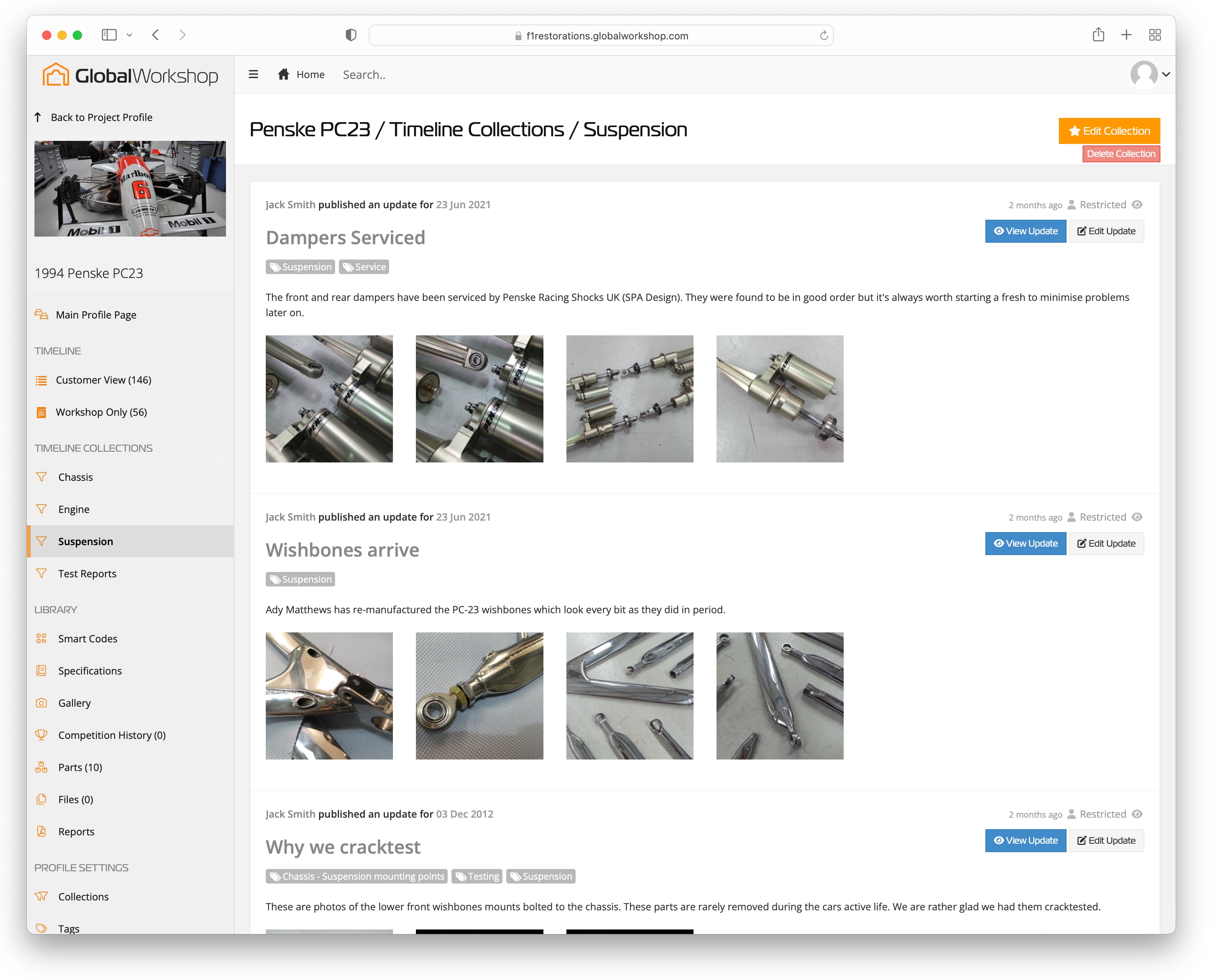 Private video hosting
We make video easy, secure and private - so you can bring your clients into the workshop, without them ever needing to leave home.
No resizing necessary - simply pick the video(s) from your phone and we do the rest.
HD1080 Supported, 4K coming shortly
Making client updates painless
Everyone needs to produce client progress reports and everyone struggles with the same problems - from wasting time resizing files, trying to find information scattered through emails, or using filesharing services that are tedious to organise. Building high quality documentation is hard so here at GlobalWorkshop we set about making it easy
Built for you
GlobalWorkshop is the only tool expressly designed for car builders. From F1 Restoration to Hot Rods and everything in between - we understand how the industry works, and build our tools around you.
Take the hassle out of high quality updates.
With the absolute minimum of taps, GlobalWorkshop automatically uploads, organises, and notifies your clients in the background just like the magic we believe technology should be.
Leverage your team, remain in control
GlobalWorkshop enables you to collect photos & videos from your team, while still allowing you to check and put the finishing touches on what goes to clients.
All the vehicles history, in one place
GlobalWorkshop has a chronological timeline clients can access in a secure portal and mobile app. Everything is recorded in one place, from each progress report through to critical files.
Improve your customer experience today
Click the button on the right to sign up for a trial account and see how GlobalWorkshop can improve your business. If you want a personal tour just email us on
info@globalworkshop.com
Want something special?
We recognise our clients have bespoke projects, and as such may need bespoke features themselves. From API integrations, custom reports and more - we are experts in software development. Our White Glove Services are here to help
About Us
Purpose built for the needs of Automotive, Marine and Aviation industries. GlobalWorkshop is a service provided by Clever Robots Limited.
Our Contacts
Leicestershire, United Kingdom
Auckland, New Zealand
Nelson, New Zealand
Phone: +44 1908 736946 (UK)
Phone: +64 3 569 3019 ext 800 (NZ)