GlobalWorkshop
Parts
Fast, accurate, easy stock & part management built specifically for the bespoke manufacturing & restoration industry.
01.

Tap

On any vehicle in your GlobalWorkshop Pro app, tap to select the vehicle and tap the parts listing.

02.

Scan

Your staff then scan a bin containing the parts. A visual confirmation of the part is shown.

03.

Enter

They enter the amount consumed, and any notes. That's it - consumption is now recorded for that vehicle.
Faster than paper
We've optimised to get the minimum number of taps to record usage of stock. Paper won't beat it.
Standard Stocked Parts
From bolts, to welding rods and sheet metal. The standard items you use to fabricate and restore. Label your storage, your team simply taps on a project, scans a bin and enters the quantity used
One-off parts
Items removed from a vehicle, or specifically ordered for a vehicle, such as Headers or an ECU. Note down a parts detail directly on the project, from serial numbers through to original supplier
Time activities
Non material time based activities such as 3D printing, or CNC time, you can allocate QR codes and have your team scan the code, enter time, and allocate to a project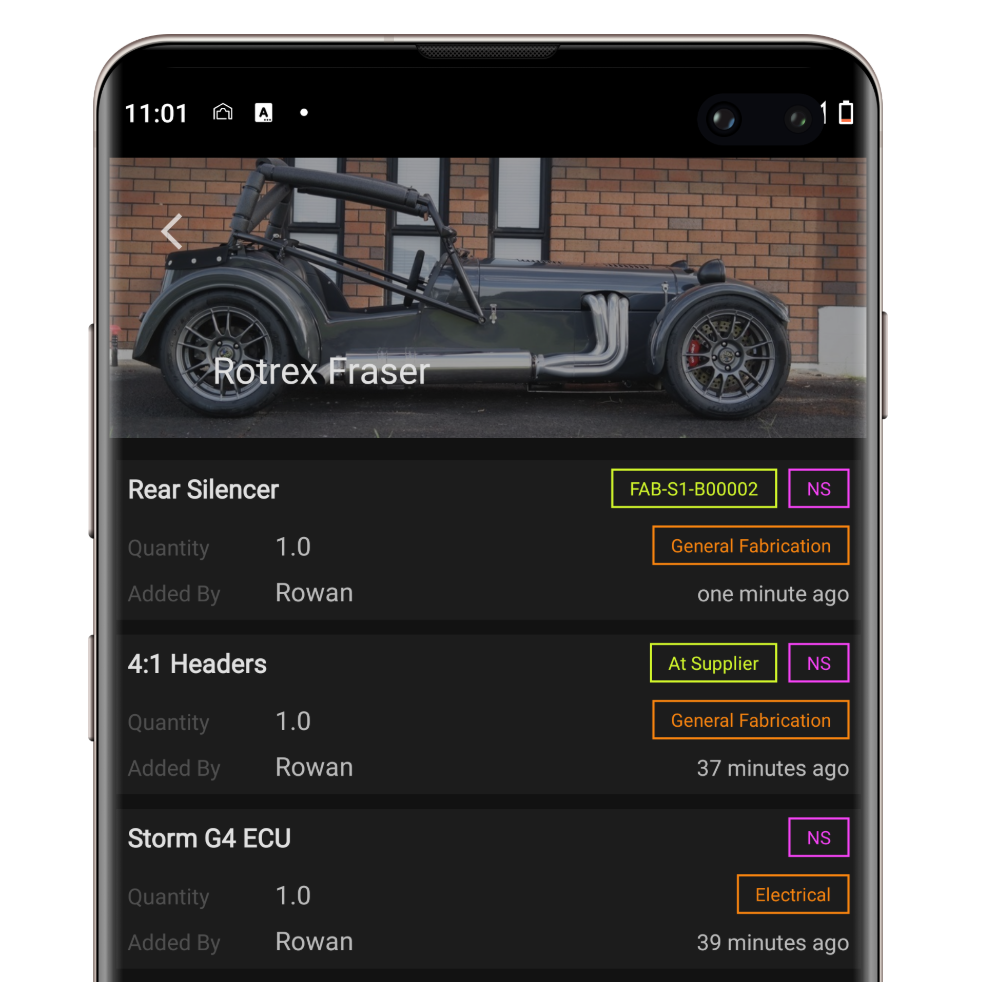 Easily create a digital passport for every individual part for a vehicle
Scan a bin, take a part, and record the history on each project in seconds.
Find parts in your factory easily. Lookup the bin directly from your phone
Easily manage parts sent out to suppliers. All parts logged when they were sent, who by and to which supplier.
All from your Android or Apple Phone. Included in all current GlobalWorkshop Plans, no extra charge.
Features
Available on all globalworkshop plans now.
See all your inventory
See all the stocked items you use at a glance across your business from dozens to thousands of stocked items
Easily track consumption
Scan a bin, pick a project, tap in the amount and you're done. Fast and easy for your team to track which project uses what parts
Scan in/out to suppliers
See which suppliers have parts, when they were sent to suppliers and when they were received back.
Low Stock Alerts
Know before it's too late with alert levels for each stocked item. Quickly see stock you have to order in. A two-step level system gives you a warning, then an alert
Bin QR Coding
Have a list of locations, and bins in each location in your factory. GlobalWorkshop creates the labels for you to print out on a standard label printer.
Part Images
Store multiple images per each part, so when your team scans a bin, parts can be verified limiting any mistakes
Customer visibility
Choose which parts are seen by customers and which aren't giving you full control over your customer experience
Invoice Tracking
Easily see what's been invoiced and what hasn't at a glance. One button click to say a part has been invoiced
Part History
For every part, or bin, see the history of who added what/when, eliminating guess work and saving time in your business
Multi-Bin Stock Levels
Store parts in many bins in your factory, with an individual level tracked for each bin
Organise and track your stock today
Click the button on the right to sign up for a trial account and see how GlobalWorkshop can improve your business. If you want a personal tour just email us on
info@globalworkshop.com
About Us
Purpose built for the needs of Automotive, Marine and Aviation industries. GlobalWorkshop is a service provided by Clever Robots Limited.
Our Contacts
Leicestershire, United Kingdom
Auckland, New Zealand
Nelson, New Zealand
Phone: +44 1908 736946 (UK)
Phone: +64 3 569 3019 ext 800 (NZ)