GlobalWorkshop
Pro Apps
Built for the workshop.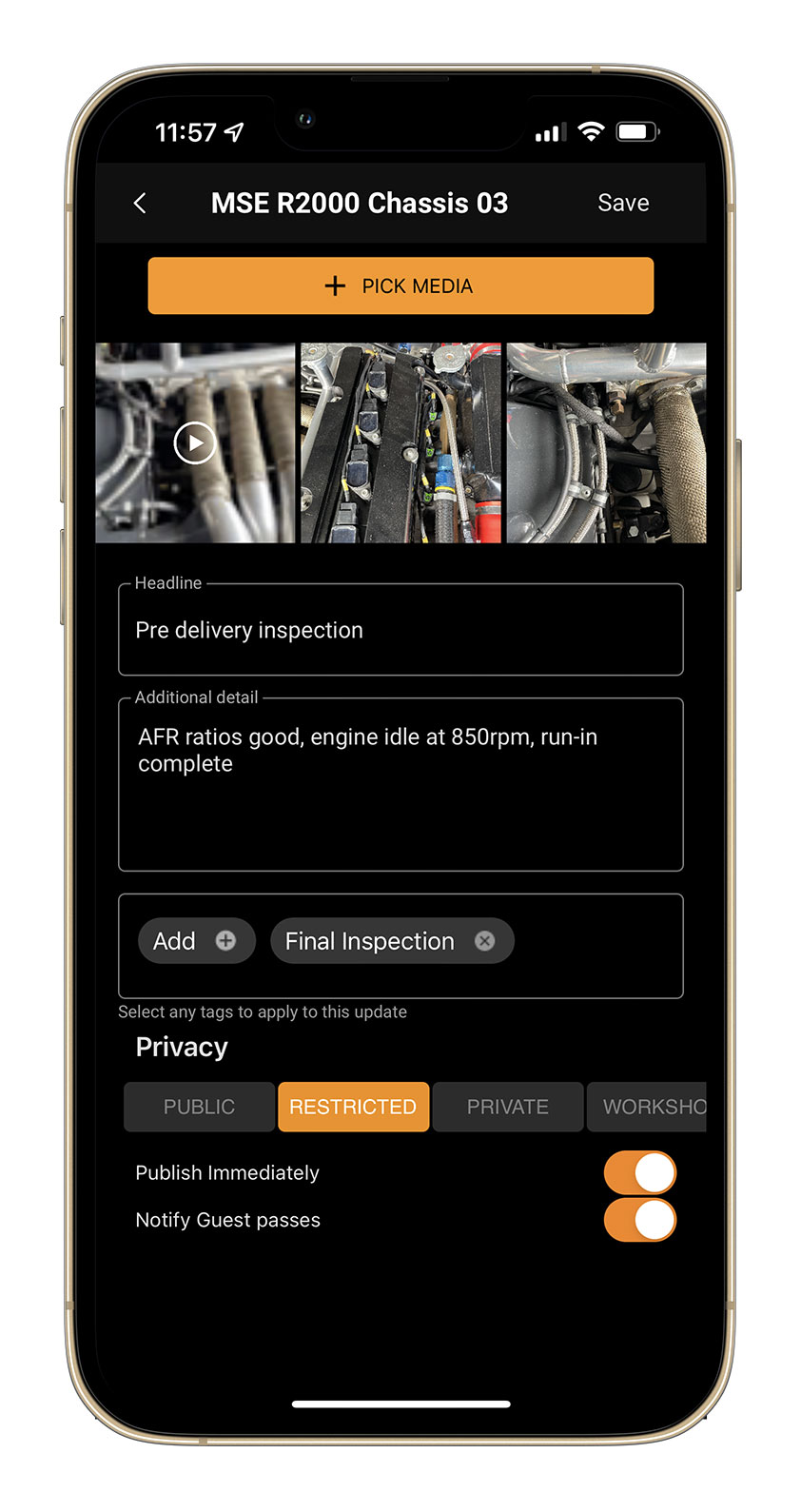 Inform, track and manage
Our complimentary mobile apps are designed to be used in the workshop, faster than pen & paper. Increasing accuracy and saving you precious time.
Track time, quickly.
Simply scan a QR code and automatically start tracking time for the right job, the right task every time.
Photo and video management
Easily upload and sync media between members for your team and clients. Permissions gives the control you need.
Parts Management
Track stock used for a vehicle in seconds, tap a vehicle, scan a bin, tap in the quantity consumed - done!
Workshop feed
See what's happening in your workshop, away from your workshop using our workshop pulse feature.
" I'm more in tune with aircraft than computers, however with the complimentary mobile apps and the process being so easy, I can now easily upload HD videos and photos that our clients enjoy and truly appreciate " Steve Cox, Pioneer Aero
Taking the pain out of media management
GlobalWorkshop Chrono is our innovative and unique system for allowing you to capture the build journey for a vehicle, all automatically stored chronologically - providing the ultimate in vehicle documentation.
Automatic file handling
No messing about with files, resizing, transferring between services - it's all done for you. Stored privately and securely
Video made easy
Simply select the videos you want, and we do the rest ! Videos make progress reports come to life for clients.
Separate work and home
You can lock staff to using the in-app camera only, so photos & videos don't end up cluttering personal galleries
It's easy
We made it easy and fast to keep your clients informed, resulting in less questions and more understanding of the immense work you do on a build.
Ultra fast stock tracking
GlobalWorkshop Parts is a system built ground up for workshops who do bespoke fabrication and restoration.
Faster and more accurate than paper job cards
All the parts at a glance
See everything consumed on a vehicle at a glance. If a part has been removed and put in a bin, or is out at a supplier you see this visually enabling you to know where everything is.
Quick and simple parts consumption
You can generate bin labels from GlobalWorkshop, these let you assign parts to a bin, scan that bin, and consume parts for a vehicle.
Automatic audit trail
Each part whether it be a complete engine package, or simple bolt has it's own audit trail automatically generated by GlobalWorkshop - so you can tell who added it, when it was sent out suppliers, when it got invoiced and more.
All from your phone
No need to have a central shop PC, each staff member can have the GlobalWorkshop app on their phones.
Why use our mobile apps?
Designed to work in harmony with your GlobalWorkshop Cloud account.
Project History in your pocket
Shared across all your team, all of your reference photos and videos, for each of your projects is accessible any time, anywhere. Either visible by project, by timeline, or searchable across all projects
Fast Progress Reporting
Create progress reports on your phone quickly, saving you precious time. Simply select photos, videos, enter some basic details and press save. We do the rest
Take the pain out of video
From mb's to gb's, upload high quality 1080P HD video files to showcase your work in High Definition. No need to use other services. No need to resize videos. No need to transfer files
Automatically Organised
All progress reports are automatically organised in the projects timeline to refer back to later.
Give your team access
All of your team can have the apps, with permissions settings so you can let them create reports visible to clients, or just to your workshop. Pick and choose from your teams updates the highlights to send to the client.
Offline capable
Do you have a welder that interrupts your wifi? in the field away from cellular service? not to worry the app works offline, saving away updates to automatically upload when you're back online
Improve your customer experience today
Click the button on the right to sign up for a trial account and see how GlobalWorkshop can improve your business. If you want a personal tour just email us on
info@globalworkshop.com
About Us
Purpose built for the needs of Automotive, Marine and Aviation industries. GlobalWorkshop is a service provided by Clever Robots Limited.
Our Contacts
Leicestershire, United Kingdom
Auckland, New Zealand
Nelson, New Zealand
Phone: +44 1908 736946 (UK)
Phone: +64 3 569 3019 ext 800 (NZ)