Why use GlobalWorkshop?
All information about a project in one central store, accessible any time, any where by you and your client.
Let's face it. Everyone who either builds, or buys these exotic machines loves looking at photos and videos. Seeing the progress of their builds. Sharing videos with their friends of stages. Being able to prove if a particular part was installed. Nice organised documentation is the holy grail of project handover and vehicle sale - it's what everyone wants. But it's hard and time consuming to do, using services that aren't designed for it. That is until GlobalWorkshop came along.
Save Time
You're busy, organising photos and videos is time consuming. Let us automate that for you.
Customer Experience
Present your clients build journey professionally, privately and securely.
Word of Mouth Marketing
Guest Passes allow your clients to share with their friends. As the saying goes "Birds of a Feather"
All Project information neatly organised
Here's a sample of GlobalWorkshop features, click on the numbers to learn more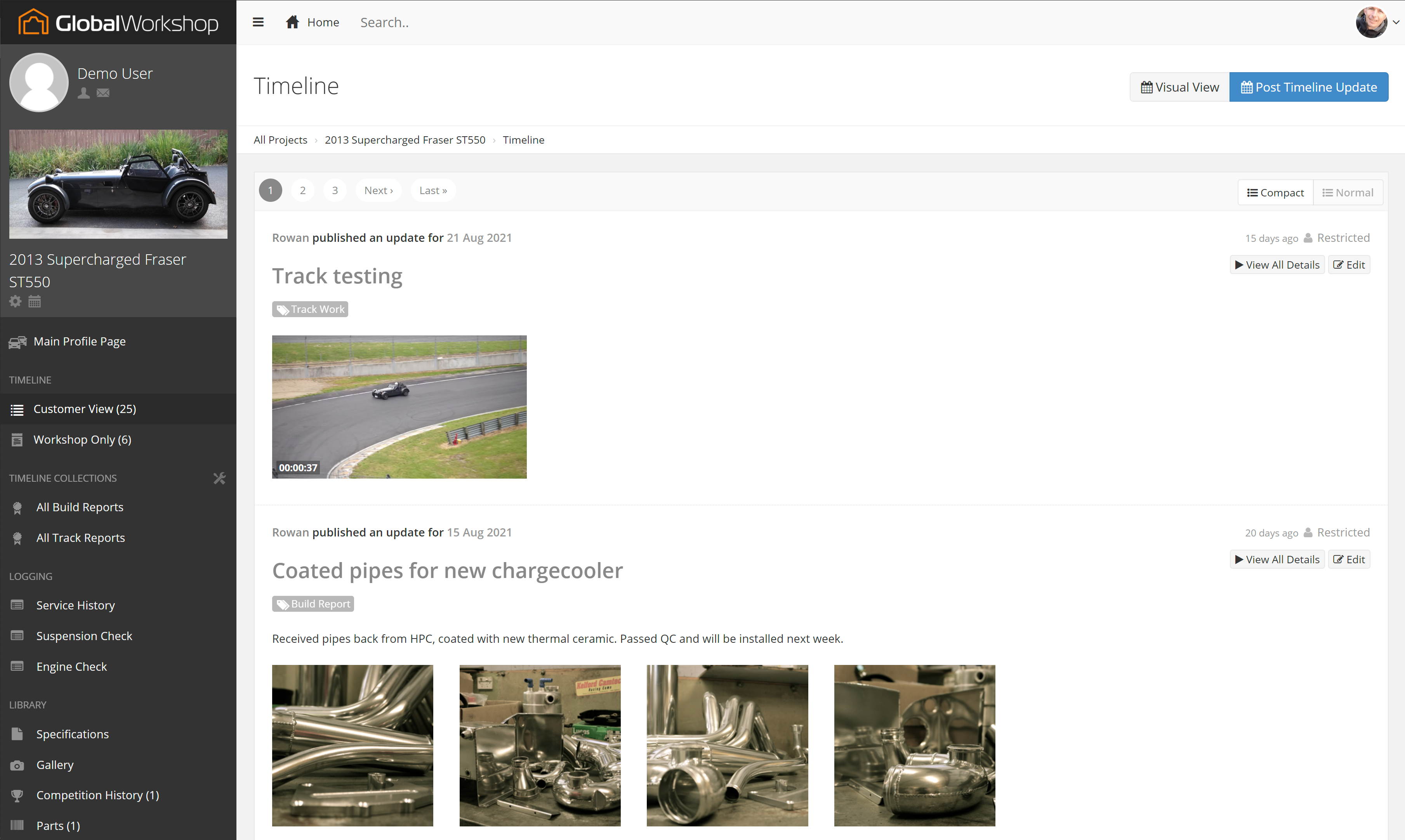 The fastest way to make progress reports
Either using your browser, or our new iOS app
Preview Coming in October are our iPhone and Android apps, making it even faster to update your clients direct from the workshop floor.
Flexible across Aviation, Auto and Marine industries
Globalworkshop can be used to store many, many things related to a project. Here's just a few examples:
Build reports
Dyno Results
Material sample choices & confirmation
Receipt storage
ECU Map storage
Dash config file storage
Certification documents
Commissioning videos
Sea trial reports
Suspension settings
Competition history
Before/After parts remanufacture proof
Dedicated Client Portal
No commissioning a web developer. We've got you covered - each of your clients has a unique login to see your work.
All project info at your fingertips
All of your projects are stored in your GlobalWorkshop portal, all information organised by project, making it fast to refer back to what you did last week or last year.
Private Video Hosting
Handling large video files is hard work, people often (mis)using services to get videos to clients. GlobalWorkshop takes care of this compresses videos, converting into the right format, and provides secure hosting in a platform built for this purpose
Upload once, use everywhere.
Once you click upload a lot of things are kicked off automatically in GlobalWorkshop. Images stored and backed up. Search database updated. Clients notified.
Downloadable Reports
At any point you can download PDF reports of your projects. All formatted automatically for you.
Those little security details
Did you know images have EXIF data which can (depending on camera setting) embed GPS location information? We strip that out automatically from shareable images.
Purposebuilt Software
Features specifically designed for this industry. Parts Inventory, Competition History, Logging and more.
About Us
Purpose built for the needs of Automotive, Marine and Aviation industries. GlobalWorkshop is a service provided by Clever Robots Limited.