Feature Spotlight: Feb
February 15, 2023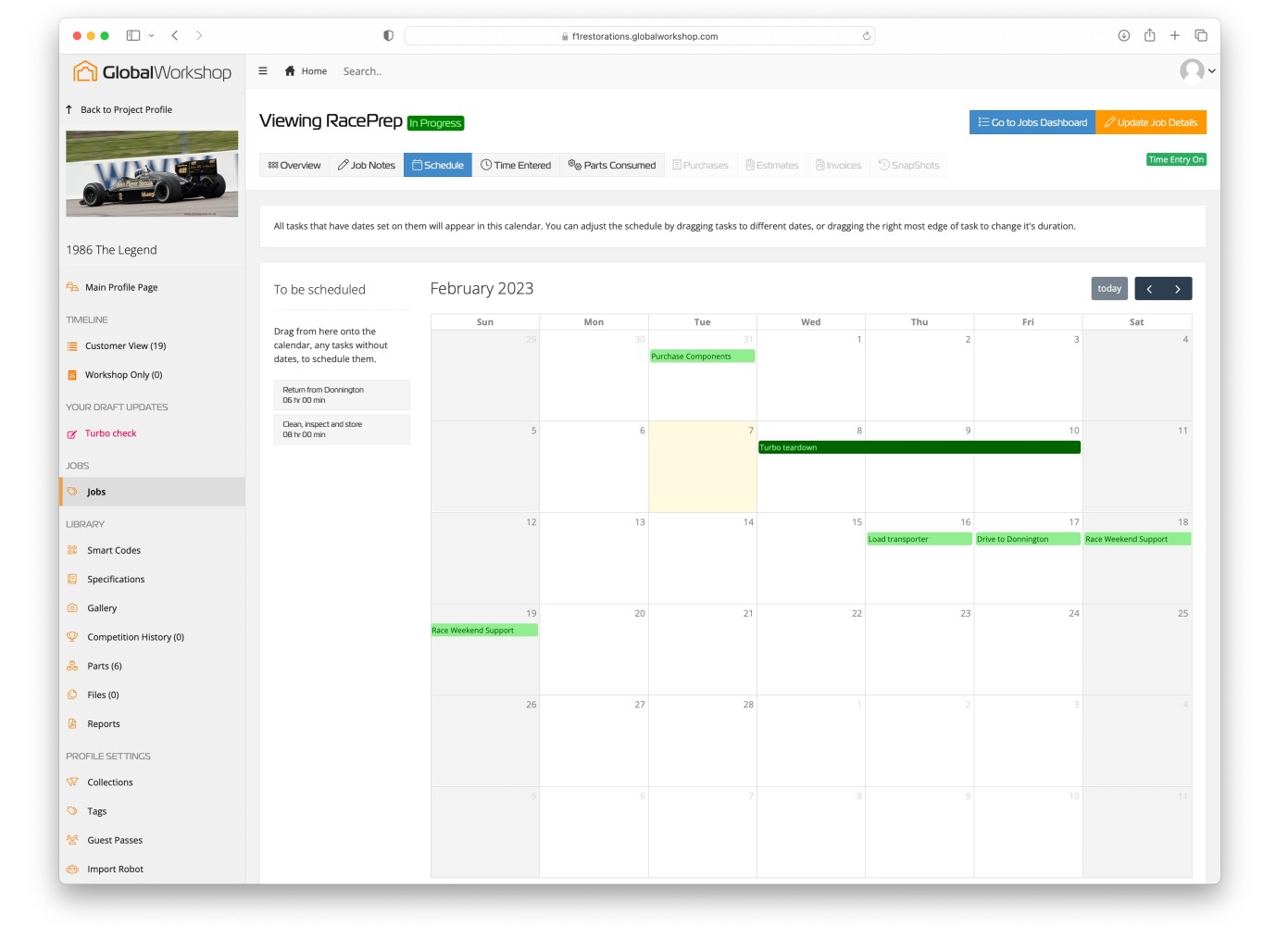 Training Video Library
We want you to use the system to it's fullest. As such we have implemented a new training video library, with short videos of usually no more than 5 minutes long, so you can learn more about features at your pace. Go to Help Center > Training Videos
Task Calendar
We'd had a few requests for this one - we can now show tasks in a calendar on a job. We've implemented a very simple drag and drop system, so you can simply drop onto the calendar a task when it needs to be done, and move them around as things in your business change.
Likewise, we know that long restorations and builds have hundreds of tasks, however you may want to keep an eye on the big ones (transporting to the race track for instance) in your overall calendar. You can selectively choose which tasks everyone should see in the main dashboard calendar. Go to Job -> Overview -> Tasks
Quick parts addition and tagging
In our continued work in the jobs' module, we've added the ability to lookup and add parts to a job from your office quickly. Our fast searching tool lets you just type in a few letters/numbers, instantly you get returned matching parts to select and add from. Our unique tagging system lets you choose show on the vehicle the part is used, so no more "why did we use those 24x M16 bolts?" - you know who, what, when, and importantly where that part was used. Go to Job -> Parts > Add Part
Timesheet task labels
Finally, a very simple and effective feature is our scan labels for Timesheeting. You can print off a label, stick it somewhere visible - the team just walks up to the car - scans the label, and can start tracking time. Great for Race Prep teams that have lots of occasional jobs on a car in the shop. Go to Job -> Overview -> Tasks -> View -> Print Scan Label
Thanks for reading !
We appreciate you reading this far. Hopefully one or two of these pique your interest. If you're not a client of course, reach out to us and we'll chat/set you up with a demo. If you're a client, go ahead and try these out - let us know what you think.
About Us
Purpose built for the needs of Automotive, Marine and Aviation industries. GlobalWorkshop is a service provided by Clever Robots Limited.
Our Contacts
Leicestershire, United Kingdom
Auckland, New Zealand
Nelson, New Zealand
Phone: +44 1908 736946 (UK)
Phone: +64 3 569 3019 ext 800 (NZ)